Too Much Coffee? Switch to Matcha Green Tea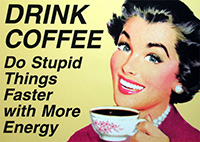 Growing up in Seattle with Starbucks and other coffee stores on every corner, it was easy to develop a serious coffee habit. Every company I've worked for since college has provided automatic coffee machines which grind and brew a fresh cup at the press of a button.
Standard green tea bags are okay if the tea leaves are high quality, but plain tea is too thin to be a replacement for coffee. Three years ago I found a sample of DoMatcha tea at Whole Foods. I liked the taste but the price was a lot higher than green tea bags, so I went for the volume discount and bought the largest size (2.8 oz) of the 2nd harvest non-organic matcha. Whipped up with some milk into a matcha latte, it was a great substitude for coffee.
When that 2.8 oz container was empty, I went back to Whole Foods and noticed a few other brands of matcha. Over the past 2 years, I've tried at least 3 other brands of matcha from Whole Foods and there was something off about each one. Often they looked and tasted like twigs instead of the fine powder in DoMatcha. Apparently to hit a lower price point, the producer ground up the whole stem instead of just the newest leaves. In the Vancouver, BC Whole Foods I saw some organic matcha from China that was packaged in a small plastic bag. It was the right color, but had a strange chemical taste. From my trip to China, it wasn't hard to see how a Chinese farm that managed organic certification could still be affected by nearby sources of air and water pollution, and indeed tea from China now has high lead levels. Or they could be using chemical fertilizers.
The problem was, each time I bought a cheaper brand from Whole Foods, I felt like I had to use it up before going back to DoMatcha. But because the cheap matcha tasted bad, it took me almost a year to finally finish it off. My joints seemed more sensitive and squeaky when I drank too much coffee and I started having painful rosacea acne flares, so I decided to try switching completely from coffee to matcha green tea. I still had a bit more of the cheap matcha to use up and I wanted to save other people time with a photo showing the difference between DoMatcha and another brand sold at Whole Foods. Both were packaged in air-tight mylar containers and have nice packaging, but as you can see in this photo, the DoMatcha is much greener. The other brand tasted like it looks -- twiggy brown.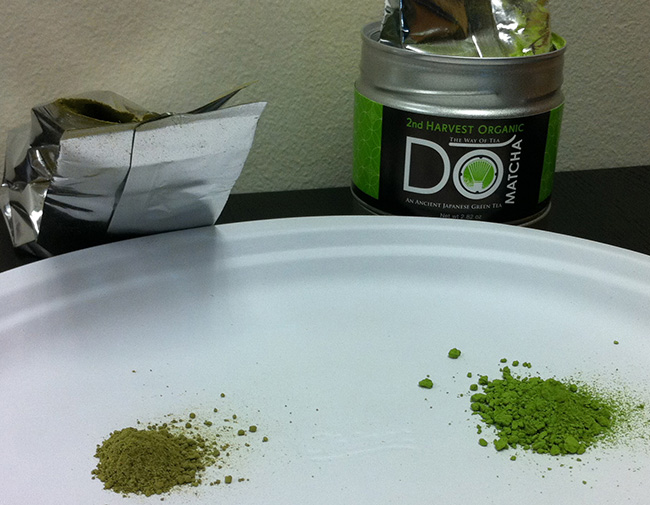 A 2.8 oz container is 33 half teaspoon servings, so it ends up costing about a dollar per cup. That's a lot less than wine, beer and juice, and matcha is a lot better for you. Don't waste your money on the cheap matcha -- it you want matcha buy the real thing, made of Sencha green tea leaves from Japan without any twigs.
And yes, I did successfully switch from 4-6 cups of coffee per day to DoMatcha and I feel a lot better. My joints don't squeak any more, I feel much more "zen" than the amped-up rush that comes with coffee.
Green tea powder tends to clump when you add water, so a whisk (like the bamboo chasen) or a blender works best to break up the clumps. I make matcha almond milk by steeping matcha in 170° water, adding a few almonds to a Ninja blender, pouring the matcha on the almonds, and pulsing for a few minutes. It takes great even without added sugar.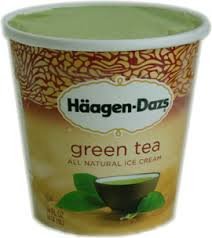 The rising popularity of matcha means you can usually order a matcha green tea latte at Starbucks. It's rarely listed on the menu, but most stores seem to have matcha powder on hand. Many ice cream and gelato places now offer green tea ice cream. Haagen Dazs has my favorite widely available green tea ice cream.
Helpful site?
Buying products I link to on Amazon gives me credits at no cost to you. As an Amazon Associate I earn from qualifying purchases.