Making creamy, delicious ice cream at home is a challenge unless most of the mix is heavy cream. Gelato uses a custard egg base that is time consuming to pasteurize without cooking the eggs, and requires emulsifiers like guar gum to make up for the lower fat content.
Avocados have 38% of the fat of heavy cream by weight and only 9% of the saturated fat, yet avocado ice cream tastes creamy and delicious without any heavy cream. Most of the fat in avocados is cholesterol-lowering monounsaturated fat and they're packed with vitamins and minerals. Healthy ice cream is not an oxymoron if it's made with avocados.
Most founders get this wrong. Even I got this wrong when I was 22. But not the way you think.
In a sprint, you run as fast as you can for the entire race. A sprint is short enough that you can practice the full length over and over.
A marathon is different. After all, the first guy who ran one died. It's a bad idea to run the full 26.2 miles during training. Most coaches recommend slowly ramping up to 13 mile runs and only then adding in a single 20 mile run before the race.
Some people just want to finish a marathon, regardless of their time. But I'm not like that. My high school rowing team ran around Green Lake as cross-training for the 5,000 meter fall crew races, and I won the 2.8 mile race in 16:23, or 5:51 per mile. That's not fast enough for a college track scholarship, but I could keep a 6:00 minute pace for 10 miles.
10 years ago, when my original plan after college went awry, I decided to get a job through the Yale alumni network instead instead of contacting the entrepreneur who hired me as an intern in 1996, 1997, 1998, 1999, and 2000. Yes, I was an awkward teenager but there were better times to prove a point than during the worst recession for Computer Science majors ever.
Alumni were happy to meet with me, but let me know first that their employer had a hiring freeze. Even Expedia, where I was eventually hired after months of networking, had a hiring freeze. I replaced someone who had just been fired. Fun times.
The hiring process moved so slowly that I had to channel my energy into something else while I waited for replies. After replacing the timing belt, oil pump and many of the engine seals in my Subaru, I decided to extend my daily runs and train for a marathon. Google returned enough online resources to create a decent training plan. One of my rowing coaches ran the NYC marathon in under 3 hours, and I realized the best chance at breaking 3 hours was as a 22 year old with nothing else to do. Carpe diem.
The training was going smoothly as I ramped up to 13 mile runs, with shorter runs in between. Even the 20 mile run (at around the 6:52 pace of a 3 hour marathon) seemed to go okay. Sure, everything hurt the next day, but 5 years of rowing taught me that pain is temporary. Three days after the 20 mile run, the pain was gone so I walked out the door to start a short run. When I switched from walking to running, it caused a shooting pain in my left knee. It was strange because walking didn't cause any pain. I put ice on that knee hoping it would fix it. But it didn't recover like the other knee. Even after not running for months while channeling energy into my new job, my left knee would get caught a few times per day. Only compressing it would completely free it.
10 years and 2 MRIs later, the latest MRI result is "normal MRI of the left knee" -- there is some slight thickening of the patellar tendon that explains why it still swells up if I try to run on it. I'm doing some eccentric exercises as physical therapy, but the reality is that overtraining at 22 years old means I'll never finish a marathon. Worse, even that 2.8 mile run around Green Lake causes swelling that lasts for two months.
Remember those SAT verbal questions that asked for the relevant word? It would be
marathon : sprint = starting a company : I-banking associate
Except that most VCs would disagree with this, since they want the unsustainable hours that investment banks require their associates to put in. Jason Fried explains it best: "Lots of startups burn people out with 60, 70, 80 hours of work per week. They know that both the people or the company will flame out or be bought or whatever, and they don't care, they just burn their resources."
Jason Goldberg (founder of Jobster and now Fab.com) was one of the first people to see the potential of Facebook's platform. He often said that a startup is a marathon, not a sprint. But just like with my marathon training, at his first startup he ramped up sales and marketing expenses too quickly. After the CFO left, he realized the company's was going to hit the wall financially and laid off 33% of the company. The Startup Genome Report found that the primary cause of failure is premature scaling, which is exactly what Jobster did in 2005 when it hired a huge sales and marketing team before finding a product-market fit. It was impossible to pivot to a consumer Internet company when 33% of the staff was enterprise sales and marketing. Laying those people off undermined the confidence of many of its remaining employees, investors and existing customers. The deal to be Facebook's career center had enormous potential as my friends at Glassdoor have shown, but Jobster was permanently injured and couldn't recover.
The lesson I learned the hard way is that there are real risks to trying to do too much, too soon. Getting a company off the ground takes a lot longer than most founders think, and few of them have found a pace that they can sustain for 10 years or are even mentally prepared to keep working on their current idea for 10 years. Most are sprinting like an investment banking associate. Some will get lucky, but trust me you don't want to burn out on a good idea. Pace yourself.
Inc magazine was a great resource when I started my first company in 2001. That company never got off the ground for the dumbest reasons even though the service I built to sync files across PCs, the web, and mobile devices was right on. Lesson learned: when people you trust say a problem is already "solved" by someone else, they might not understand the problem or why the "solution" doesn't work for regular people.
I realized that I couldn't start a disruptive company alone, and I thought joining a profitable Internet company would help me meet future cofounders and teach me more about the keys to success. My first week at Expedia, I worked with Tom Seery, at the time a planner for the hotel business unit. Expedia turned out to be a case study of a web 1.0 company that was bogged down in process, so I took my former manager's advice and left for a startup. That company's meteoric rise and fall taught me to stay focused on revenue and expenses since most companies fail because they ramp up expenses faster than revenue and run out of money. 4 years after meeting Tom, I joined him as a technical co-founder at RealSelf.
Turning an idea into a company on the Inc 500 list of Fastest Growing Companies remained a goal since the list is ranked by 3 year revenue growth, not vanity metrics. Making the Inc 500 is especially important for companies that are mostly self-funded since they miss out on all of the business press each time a funding round is announced. Often the CEO gets a lot of positive feedback about the company but other employees and people who are considering applying or joining don't. Recruiting is critical for growing companies, so every award helps.
Here it is: RealSelf is #306 on the 2012 Inc 500 with 1,217% revenue growth from 2008 to 2011.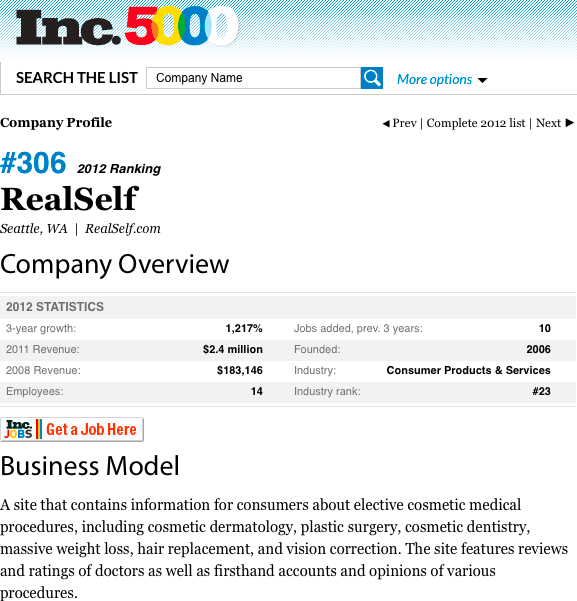 Read about the reasons RealSelf became one of the fastest growing companies.
And here's a photo of the 2008 shoebox office, furnished with IKEA and second-hand air conditioning units.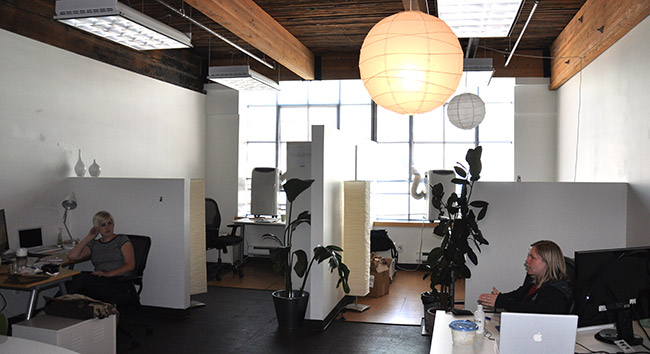 Stories about the early days of new companies are fascinating. As an 8th grader in 1994, I was leaning toward skipping high school with a 1-year University of Washington Early Entrance Program. (I wasn't attracted to girls and knew 4 years of high school dances and sexual repression was not going to be fun or beneficial.)
Then I read Gates, the gripping biography of Bill Gates' introduction to computers at the private Lakeside School in my hometown of Seattle. Lakeside was one of the only schools that had access to a computer in 1968, and Bill Gates learned how to code and met his future cofounder of Microsoft there. It was an inspiring story, so I chose Lakeside.
I graduated 20 years after Bill Gates, and his class was having a 25th reunion in the same room as my 5th reunion. A few people from my class started talking with Bill and he regaled us with the wilder stories of his youth. Bill was so much more interesting in person that I didn't think other people would believe the story, so I asked him to sign my business card:

Then Bill started talking about how fascinated he was by a rapidly growing social networking site. The site was the main topic of conversation for an hour, and the following day he left a note of one of my classmates' profiles. (I took a screenshot of his profile – which had the 1978 group photo of Microsoft as his profile photo -- but sadly it died when a worm exploited a buffer overrun in Windows 2000 server and took over the whole server. Firewalls aren't just for paranoid companies...)
Since Bill went to Harvard before starting Microsoft, and Facebook launched at Harvard, one would think he was taking about Facebook. read more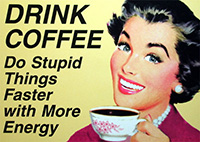 Growing up in Seattle with Starbucks and other coffee stores on every corner, it was easy to develop a serious coffee habit. Every company I've worked for since college has provided automatic coffee machines which grind and brew a fresh cup at the press of a button.
Standard green tea bags are okay if the tea leaves are high quality, but plain tea is too thin to be a replacement for coffee. Three years ago I found a sample of DoMatcha tea at Whole Foods. continued